Ray of Creation — A Discussion of Vibratory Influences
Discussion of Fourth Way Work — Participants in an ongoing group. (If interested please send an e-mail of inquiry to gwynne.mayer@gmail.com).
W.E. —"I

n

Higher Being Bodies, page 195 the last sentence, "But the horse needs to be convinced that

Self-remembering

is more important then its own steaming desires, which are only concerned with the needs of the moment."
When I read this a couple weeks ago it brought a clarity into my increasing awareness of my different states of consciousness.
So many of the I's that I become have me in a state of no or minimal consciousness of myself, which is profound. I don't even really exist in these states. Which consume so much of my time. Something coming from my body has a want and it wants it want now! Like a drug addict. It fits into a regular predictable pattern and if i don't give it what it wants it gets, edgy, irritable, clever and deceptive to trick me, convince me into giving it what it wants right now.
These I's I take on, that I become have their faces buried deep into the object of their identification.
I saw from the sentence i mentioned that these I's generally see no memory, no past or future, they don't even see themselves. They have no care for my well being. They just want what they want in that moment. No over all big picture. They don't see they are over taken by a want nor do they care.They don't know the light of consciousness. They seem to have never been fully drawn into the light of consciousness, which self remembering can begin to allow.
I think I saw once on a Tarot card dead people floating up out of their graves. That is what i started to experience when i saw in a state of self remembering where there is the awareness of the present moment, memory and conscious sensing discerning ability . These I's where forced to rise up out of their grave and connect to a bigger picture. There now was a clear difference, discernment between these unconscious of themselves I's and their surroundings and

self remembering

and the conscious mixing of the two. The unconscious force to rise in the encompassing unity of conscious light, created by

self remembering.
Then in a state of

self remembering

watching these I's in me begin to float up out of the world of self centered unconsciousness into a state of seeing memory, truth, their relation to a bigger picture, the greater need of ones being.
Its Amazing! Its incredilible to me."
OdB: "I recognize this deeply. What you describe is an objective result of

Self-Observation.

Now that what observes is under less laws then that what is observed. Work I's are of a different weight and density and filled with precious

Kesjdanian energy

. Mechanical automatic I's are much heavier, hard to observe and they do what they want and we lose precious

Kesjdanian energy

to them. Our aim is to keep this energy for Work. We need

Kesjdanian energy

for the accumulation of higher energies that belong to

World 24 and even World 12 and 6. Mechanical I's with almost no Consciousness belong to World 48 and 96. (See Lee Van Leer's Chart below and chart of Ray of Creation)
As an example, let's stay with competition. Don't get me wrong I don't say competition is wrong or bad. I do say, for Work, competition belongs to World 48 and 96. This is where ; Playing a role comes in. We need non-identification and non-judgement so much if we wish to reach impartial Self-Observation.
We need to learn how to enter World 24. What keeps us away from that higher World, is our identification with World 48 and 96 . Gurdjieff would say, in these worlds we throw our energies from the emptiness into the void.
To reach 24 we need to consciously digest the two higher being foods,

Abrusdonis and Helkdonis

. To do this we need

compassionate impartial Self-Observation

.
Motivation of the heart."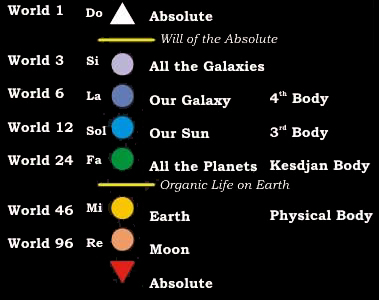 From W.E.
What I see now.
I remember myself.
Observer in head brain lights up my body and atmosphere. Fills this universe of body and atmoshere with light. I see/sense this universe.
My heart lights up.
My observer in the head brain. Commands a powerful position, but needs to work to contemplate, digest the information it is receiving consciously.
The heart has a huge influence on what actions to or not to be taken to what is being percieved, contemplated, digested by the observing awareness. It reaches out in kindness and understanding.
I'm breathing with awareness.
The spine gives another quality a strenght and a reference point of stability, groundedness. knows where it needs to stand. It sees the actions that bring me to vertical center. Strenghten my vertical spine and what will pull me away an fragment me.
You mention the density of different I's and those that through the empty into the void and those who don't. I see that clearer now.
Abrustdonis and Helkdonis I don't think I know what these substances are, but i read more about them and see how they are relate to what we are talking about and what I read said they where related to conscious contemplation, conscious labor and intentional suffering.
I'm beginning to feel, what seems to be the feel of compassionate impartial self observation. There is no criticism. There is a feeling of love, of kindness to self and others. I sat with grief today, it was ok. I worked not to identify with it. Attach it to someone or something. I didnt try to cover it. It help show more of what i previously could not see as well before. It helped me be more helpful. It made me more real.