Esoterica
Carl Jung: Most connections in the world are not relationships, they are participation mystique [mystical connection].
borrowed from : Lewis Fontaine blog.
Most connections in the world are not relationships, they are participation mystique [mystical connection].
One is then apparently connected, but of course it is never a real connection, it is never a relationship; but it gives the
feeling of being one sheep in a flock at least, which is something.
While if you disqualify yourself as a sheep you are necessarily out of the flock and will suffer from a certain loneliness, despite the fact that you then have a chance to reestablish a relationship, and this time a conscious relationship, which is far more satisfactory.
Participation mystique gives one a peculiar unconsciousness, which is in a way a function of the mother; one is carried in
unconsciousness.
Sometimes it is nice and sometimes it is not nice at all, but as a rule people prefer it because the average man gets
awfully frightened when he has to do something which he cannot share with his world; he is afraid to be alone, to think something
which other people don't think, or to feel something which other people don't feel.
One is up against man's gregarious instinct as soon as one tries to transcend the ordinary consciousness. Carl Jung, Visions Seminar, Page 625
THE SACRED INNER MARRIAGE
by Daniel Jacob
It's frustrating for me to delay our discussion of Spirituality and Sex while I'm so busy at work. After Christmas, I'm looking forward to continuing these discussions. Some of you may understand what I'm saying, while others are just too busy in the "outer stuff" that there is no time for introspection or insight.
There is just so much to say and so many viewpoints to explore!
The innate panic that comes along with these next levels of our Soul's Evolution MUST be our center of attention if we're ever going to get anywhere in truly understanding this subject.
The fact is: We're moving from a DUALISTIC Frame of Reference to what Carl Jung referred to as the "Great Sacred Marriage" which takes place inside the heart and soul of every person—regardless of gender. When the Sacred Marriage begins to occur, all the stress dynamics and "he said/she said" or "he did/she did" of the external world gets transferred to the Inner Planes of each person's own Soul. Indeed, each of us MARRIES the masculine and feminine side of SELF. We still get to enjoy 3D separation, but we no longer take what appears in 3D as the TRUE VIEW of what's going on. Instead, we process inwardly, and we experience outwardly……so that vividness and true insight can finally be birthed within us.
Once the Sacred Marriage is complete, there is no more room for victims or persecutors. There is no more room for unrequited love, no more room for resentments, frustrated desires, or externally based complaints. There is only SELF, and the manifold reflection of that Multidimensional SELF in a 3D world format.
Every male we see is a tiny reflection of SOME ASPECT that is playing out within that ONESELF. Every female wears for us a tiny flicker of the intuition/emotion that is longing to be known and recognized inside each of us. The more these "key mirrors" tend to upset us—either positively or negatively—the more they represent something vital that each of us NEEDS TO REALIZE about our inner terrain.
When a woman cries out "Are there ANY men in this world who are willing to commit to a truly intimate relationship?" What she is truly saing is: "I'm not quite ready for depth and intimacy right now. And the many "players" I attract into my life are evidence of my need to admit that." There is no condemnation, once the Sacred Marriage is in motion. There is only REALIZATION of what's true about us in a given moment of time.
When a man cries out: "Where are the truly PLAYFUL women in my universe……the ones who are willing to ride the waves of each NOW MOMENT, rather than demanding a signed "contract" of "foreverness" before they're willing to follow the obvious attraction that exists between myself and them?" What he's really seeing is his own DEPENDENT SIDE, which yearns for personal freedom, yet longs for someone who will always be there if and when he needs her. In essence, he's looking for the MOTHER who abandoned him in some way, long ago. Because no one really wants to admit that he's looking for a mother/lover……he will continuous project out those feelings of dependence onto the women who enter his life……opting to RUN AWAY if there is any sign of disapproval or abandonment in sight. In essence, he rejects her and leaves before she gets a chance to leave him.
And all of this………100% of this……..is about SELF……….both sides of an evolving, awakening SELF……as they seek to find each other in the foggy mist of forgetfulness.
Ray of Creation — A Discussion of Vibratory Influences
Discussion of Fourth Way Work — Participants in an ongoing group. (If interested please send an e-mail of inquiry to gwynne.mayer@gmail.com).
W.E. —"I

n

Higher Being Bodies, page 195 the last sentence,  "But the horse needs to be convinced that

Self-remembering

is more important then its own steaming desires, which are only concerned with the needs of the moment."
When I read this a couple weeks ago it brought a clarity into my increasing awareness of my different  states of consciousness.
So many of the I's that I become have me in a state of no or minimal consciousness of myself, which is profound. I don't even really exist in these states. Which consume so much of my time. Something coming from my body has a want and it wants it want now! Like a drug addict. It fits into a regular predictable pattern and if i don't give it what it wants it gets, edgy, irritable, clever and deceptive to trick me, convince me into giving it what it wants right now. 
These I's I take on, that I  become have their faces buried deep into the object of their identification.
I saw from the sentence i mentioned that these I's generally see no memory, no past or future, they don't even see themselves. They have no care for my well being. They just want what they want in that moment. No over all big picture. They don't see they are over taken by a want nor do they care.They don't know the light of consciousness. They seem to have never been fully drawn into the light of consciousness, which self remembering can begin to allow.
I think I saw once on a Tarot card dead people floating up out of their graves.  That is what i started to experience when i saw in a state of self remembering where there is  the awareness of the present moment, memory and  conscious sensing discerning ability . These I's where forced to rise up out of their grave and connect to a bigger picture. There now was a clear difference, discernment  between these unconscious of themselves I's and their surroundings and

self remembering

and the conscious mixing of the two. The unconscious force to rise in the encompassing unity of conscious light, created by

self remembering. 
Then in a state of

self remembering

watching these I's in me begin to float up out of the world of self centered unconsciousness into a state of seeing memory, truth, their relation to a bigger picture, the greater need of ones being.
Its Amazing! Its incredilible to me."
OdB:  "I recognize this deeply. What you describe is an objective  result of

Self-Observation.

Now that what observes is under less laws then that what is observed. Work I's are of a different weight and density and filled with precious

Kesjdanian energy

. Mechanical automatic I's are much heavier, hard to observe and they do what they want and we lose precious

Kesjdanian energy

to them. Our aim is to keep this energy for Work. We need

Kesjdanian energy

for the accumulation of higher energies that belong to

World 24 and even World 12 and 6. Mechanical I's with almost no Consciousness belong to World 48 and 96. (See Lee Van Leer's Chart below and chart of Ray of Creation)
As an example, let's stay with competition. Don't get me wrong I don't say competition  is wrong or bad. I do say, for Work, competition belongs to World 48 and 96. This is where ; Playing a role comes in. We need non-identification and non-judgement so much if we wish to reach impartial Self-Observation.
We need to learn how to enter World 24. What keeps us away from that higher World, is our identification with World 48 and 96 . Gurdjieff would say, in these worlds we throw our energies from the emptiness into the void.
To reach 24 we need to consciously digest the two higher being foods,

Abrusdonis and Helkdonis

. To do this we need

compassionate impartial Self-Observation

.
Motivation of the heart."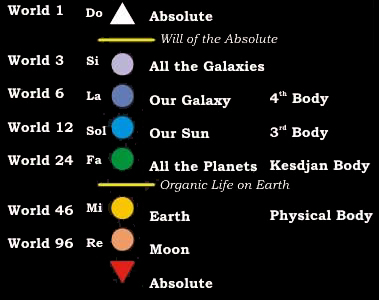 From W.E.
What I see now.
I remember myself.
Observer in head brain lights up my body and atmosphere. Fills this  universe of body and atmoshere with light. I see/sense this universe.
My heart lights up.
My observer in the head brain. Commands a powerful position, but needs to work to contemplate, digest the information it is receiving consciously.
The heart has a huge influence on what actions to or not to be taken to what is being percieved, contemplated, digested by the observing awareness. It reaches out in kindness and understanding.
I'm breathing with awareness.
The spine gives another quality a strenght and a reference point of stability, groundedness. knows where it needs to stand. It sees the actions that bring me to vertical center. Strenghten my vertical spine and what will pull me away an fragment me.
You mention the density of different I's and those that through the empty into the void and those who don't. I see that clearer now.
Abrustdonis and Helkdonis I don't think I know what these substances are, but i read more about them and see how they are relate to what we are talking about and what I read said they where related to conscious contemplation,  conscious labor and intentional suffering.
I'm beginning to feel, what seems to be the feel of compassionate impartial self observation. There is no criticism. There is a feeling of love, of kindness to self and others. I sat with grief today, it was ok. I worked not  to identify with it. Attach it to someone or something. I didnt try to cover it. It help show more of what i previously could not see as well before. It helped me be more helpful. It made me more real.
Soul Work, Soul Journey, Soul Dreaming—–Journaling Through Individuation  
guided by Gwynne Mayer
"To cease moving and no longer be torn by the tensions of the opposites is equivalent to no longer existing in the cosmos…
Ultimately, it is the wish to recover this lost unity
That has caused man to think of the opposites as complimentary aspects of a single reality.
—Mircea Eliade
When we feel the call, to join our inner world, to move out of our projections and dependence on others, we then, and only then, can find our true soul journey…toward our own 'individuation' process, cleansing the need for another to determine our path…we move on.
Feel free to answer some of the following questions before you move into the keeping of your own personal soul journal:
 What others have gone before you in a way that lays down your path?  Name some of those you admire.  (You can add as many names as you want.)  ________________________________________________________________________________________________________________________________________________
What personal struggles have you been through that can now be reframed into guidelines along the way?  i.e. situations that have seemed fraught with problems can now be reframed into positive learning experiences with which to be guided.________________________________________________________________________________________________________________________________________________________________________________________________________________________________________________________________________________________________________________________________________________________________________________________________________________________________________________________________________________________________________________________________________________________________________________________________
 Name some recent incidents that have caught your attention and made you aware that your path needs to be adjusted, explain. These can be dreams, situations, definitely mind altering situations.________________________________________________________________________________________________________________________________________________________________________________________________________________________________________________________________________________________________________________________________________________________________________________________________________________________________________________________________________________________________________________________________________________________________________________________________________________________________________________________________________________________________________________________________________________
 What do I have to give up in my daily life, what thoughts do I have to attend to, in order to follow my own path of healing and consciousness?  Name at least three things you will need to cleanse in the next few months ________________________________________________________________________________________________________________________________________________________________________________________________________________________________________________________________________________________________________________________________________________________________________________________________________________________________________________________________________________________________________________________________________________________________________________________________________________________________________________________________________
 I envision my path in many ways, but the most primary ways I would like to live my life from this moment forward are the following:________________________________________________________________________________________________________________________________________________________________________________________________________________________________________________________________________________________________________________________________________________________________________________________________________________________________________________________________________________________________________________________________________________________________________________________________________________________________________________________________________________________________________________________________________________________________________________________________________________________
Peeling the Onion  — 
The Process of Becoming
(After many years of training under Leland Johnson Ph.D. a Fritz Perls and Ida Rolf trained Psychologist, I learned to adapt my own thinking and Jungian work with Gestalt methodology and Inner Dialogues.  I, more recently, include these ideas in my work with Intentional Coaching.)
In Gestalt therapy…we call the awareness continuum or "peeling the onion"….when doing a chart, reading tarot, working with any divination…one is always concerned about the awareness of the here and now…or at least should be…Much of our awareness, is at first, limited to external sensory impressions…later it broadens to include many other factors, internal as well as external.  Simply becoming aware that you are aware increases your potential for greater consciousness.  You are bringing to consciousness the different layers (dimension) of your process as you are delineating.  Staying in the present is very important for the client and the facilitator; it gives a wider orientation and greater freedom of choice and action.  You are teaching and learning how to work with your environment through more awareness to it…Many are boxed in by the lack of awareness both of self and external situations and have little room by which to maneuver.  As soon as the awareness increases, orientation and maneuverability also increase.
As a gestalt counselor…we ask always the following:..(Fritz says that they are essentially three questions reformulated into a statement….it is an absolute "no no"..to ask questions in training…because the belief is that in order to formulate the question, the answer has to be in the unconscious or just below the awareness level).."Now I am aware" are: "What are you doing?"  "What do you feel?(senses) "  "What do you want?(NOW)"  We could increase the number by two, and include these questions:  "What do you avoid?"  "What do you expect?"  All five of these supportive questions can be answered only to the degree that the client/our own awareness makes possible.  But at the same time, they help us become more aware, more responsible for mustering our own forces and increase our means of self-support, which is the whole point of counseling using gestalt techniques..

.
Gestalt Pillow Talk   — An Innovative Way to the Hot Seat
For more about Leland Edward Johnson, Ph. D., visit LelandJohnson.info.

Polarities – Dialogue

(I trained with Leland Johnson from 1974 -1981 and consider it the most important and formative years of my education.)

The notion of dualistic polarity is as old as mans ability to conceptualize the night-day, life-death, yes-no range of possibilities and of choices.  Western thought has been dominated by an attempt to conquer nature by developing a fragmented split between man and nature, good and bad, right and wrong.  The frozen polarities which we have created in our rigid mind-body categories have all but crippled our capacity to appreciate ourselves as a part of nature and nature as a part of us.  With the recognition of self comes the awareness of "not self.  "With the appreciation of beauty comes the knowledge of ugliness.  With the realization of pleasure comes a taste of pain.  With the yin comes the yang.  When we can flow with the changing figure-ground balance of our shifting gestalts, then we can regain our "identity."  What is in the background of awareness comes to the foreground as the figure.  We can learn to see who we are, not as something separate from the rest of the world or from ourselves but as a continuous synthesis of all the parts of us and others, with all of everyone and everything being the unitary whole.  Dualistic rigidity occurs when we are unable to allow figure and ground to emerge spontaneously, unwilling to experience the permeability of our contact boundaries, and incapable of owning all parts of ourselves.

"Yes," Yellow Robe agreed, "This is part of the teaching.   One half of you loves, and the other half of you, at times, hates.  This is the Forked Medicine Pole of Man.   The clever thing the Medicine has taught us here is this.  One Half of you must understand the Other Half or you will tear yourself apart…  But remember, Both Halves must try to understand.   Even within yourself it is hard to know which of the Forks is which." – From Seven Arrows by Hyemeyohsts Storm

Using the methods of gestalt, as conceived by Fritz Peris, we are able to facilitate a new integration with an appreciation for our shifting polarities and an experience of wonder, affection and joy.  It is possible for us to get in touch with and bring harmony to those conflicted, fragmented parts of ourselves which drain our strengths and stifle our resources.  With gestalt we can increase our awareness of what is in the now.  We explore our dreams, visions, and hopes in the enactment of our ongoing dialogues between our polarities.  In our gestalt dialectics we become fully aware of our total being: our bodies, gestures and feelings, as well as our intellects and fantasies.

Polarities merge, fragments blend, choices crystallize and awareness extends into our own personal gestalt.  As the fragments of our dialogue become obvious, self discovery evolves out of choosing to be ourselves and touching the excitement and hope of responsibility.  What is emerges out of what we are …  alive, strong, creative, real and all here.

Therefore having and not having arise together.
Difficult and easy complement each other
Long and short contrast each other
High and low rest upon each other
Voice and sound harmonize each other
Front and back follow one another.
– Tao Te Ching by Gia-fu Feng and Jane English
Road Map to Polarities

When people start working in gestalt, it is often difficult for them to find any polarities.  To work in gestalt means to find some way to own parts of you.  That is the beginning of gestalt.  To own and take responsibility for all the parts of you.

Experience – Pillow Talk

Paul Reps recalls in "Square Sun, Square Moon" a school in the Orient which teaches a game called "Pillow Talk" to groups of children ten to twelve years old.

On a piece of blank paper, draw a square in the middle.  Number each side, following the drawing.  Give yourself room to write around it.

What you do is write down position one, position two, position three, position four and then the fifth position in the center.  One is your present place, two is the opposite place, three is the merging of one plus two, four is a place of transcendence, and five is integration.

This road map comes from an oriental way of looking at the world which is very much like the concept of merging polarities in gestalt, and it illustrates the way gestalt blends with Oriental thinking.

First Position – Placing Yourself


A.  NOW—sense, think, feel…  (e.g., hard, flat, happy .  ..)
Place yourself in three ways in the first position when you come to your gestalt.

The first level is the now in which you are sensing, thinking, feeling.  Your senses are on a purely physical plane.  Perhaps you are hard-soft, hot-cold, light-heavy, up-down, smooth-jagged, etc.  If you are thinking, then you might be analyzing, judging, remembering, expecting, projecting, etc.  Your feelings might be sad-happy/mad-glad.  This aspect of your consciousness is the external now which means, of course, that even as you write down what you sense, think, or feel, then you will have changed.  Nevertheless, you can give yourself some indication of your present awareness in the now level of your existence.

B.  TRAITS—unique qualities (e.g., dependent, loving,…)
The second level of your ongoing place are those "traits" which make up your person, the unique qualities which are yours in special_combination.  This aspect of your consciousness deals with the underlying attitudes you have toward yourself and the implicit or explicit judgements, positive or negative, that you have made about yourself.  The way you see yourself could be as dependent, loving, controlling, allowing, intellectual, impulsive, demanding, depressed, elated, etc.  Also write down those traits which you possess that may not be obvious to others.  Note both the public and private qualities of your "selves" that you have acknowledged and taken responsibility for.
C.  UNFINISHED—I will/won't let go of my ____)
The third level of the first place has to do with unfinished business.  The life decisions which face all of us are, if left undecided, part of the baggage that we carry around with us.  Much of our work in gestalt begins with the yes-no polarity of loose ends in our life.  This business that we have left hanging creates the melodrama which occupies much of our energy.  The chatter in our heads rings of the "I will" and "I won'ts." "I will/won't get married, go back to school, get a divorce, have an affair, leave my mother, quit my job, buy a new car, etc." These are the daily decisions which we take very seriously.  The tragedy, comedy, and heroics of our life are often tied up with "I will/won't take a stand." "I will/won't allow myself to be close to others." "1 will/won't let go of my greed, sadness, anger, fear,etc." These unfinished scripts have an either/or aspect to them.  Much of our being undecided in our life story has lo do with keeping ourselves in the middle with our "maybes" and our "1 don't (won't) know."

As you write down your unfinished' business, give yourself the luxury of deciding, if only for a brief moment, one way or the other on the important issues in your life.  This is where you come right up to the edge of making a decision, and then you will or won't.

Second Position: The Opposite Pole

The polarity on point two is the opposite of the place you choose for yourself at point one.  If at point one you were feeling happy, on the other side of that coin could be sadness.  If at point one f you are feeling expectant, on the other side you might be bored.  Think of all the other polarities that are especially important to you and of concern to you at this point in your life.  If at point one you are definite, then at point two you could be confused.  Write down the opposite for each word listed in the first position.  Do this for three levels.  The opposite is whatever fits for you.  Usually the opposite of happy is sad, but for some the opposite of happy might be lonely.
So at one you have placed yourself, and at two you have made some indication, at least to yourself, that there is part of you that is at another extreme, on the other side of the coin.  It is very important in a gestalt when you are owning or taking responsibility for the different parts of yourself that you temporarily suspend judgements.  This is going to be hard for you to do.  You are going to make judgements; such as the "dependent side of me is obviously inferior to my independent self…  it gets me in all kinds of trouble and that independent self is the one that I side with." Try not to make that kind of judgement about which of the polarities is "best." If you have difficulty suspending judgements, then you might have to start on your polarity work as the "judge." If you don't choose sides between one or the other polarities, then you can form strong identifications with both of your polarities, just let yourself experience the two-sided coin of the polarity.
A.  NOW—sense, think, feel…  (e.g., soft, round, sad …)

B.  TRAITS—what you see in you…  (e.g., independent, angry …)

C.  UNFINISHED—I won't/will.." (e.g., let go of my ___."

"What one says is wrong, the other says is right; and what one says is right, the other says is wrong.  If the one is right while the other is wrong, and the other is right while the one is wrong, then the best thing to do is to look beyond the right and wrong."

"Chuang Tsu", translated by Gia-Fu Feng and Jane English

Dialogue

Now let these two fragmented parts of you blend into an ongoing here and now dialogue.  Recreate the polarity that seems to be the most important—Look through the list of your polarities right now and take the one that seems to be giving you the most visible sign of discomfort.  This polarity is the one that seems hard to assimilate.  You wonder, "How did I get into this ridiculous dialogue?"

Just circle the polarity on your road map that you feel is the most significant polarity to you at the moment, at this place.  Write down a few of the sentences that characterize the feelings and attitudes of your polarity as they develop the dialogue with each other.  This will be the polarity that is absorbing a lot of your mental and physical energy in your day-to-day existence.  You might even have a sense of futile despair about ever resolving the problems created by this polarized aspect of your life.  This is the emerging gestalt which spontaneously arises as the most obvious right now, even if you feel frustration and think "there's no way to win."

This conversation between your polarities of positions one and two will be written down now as an "I and You" talk between the two selves.  Perhaps it would help you to recreate the conversation if you will give each part a name such as "Harried Harry" hassles "Calm Charlie," or "Silly Sally" nags "Serious Charlotte." Before you can experience yourself as whole or complete, you sometimes have to allow yourself to become the separated parts of yourself.  The dialogue usually follows four levels: Accusation; Identification; Clarification; Negotiation.

The dialogue this person chose was the loving-indifferent polarity.  As the intra personal encounter begins, the polarities are often locked in the deadly combat of ruthless accusations and defensive counter accusations.  Each side blames the other for the pain that you feel.  The next level of this back-and-forth conversation consists of a stubborn and sometimes energetic identification of the dissimilarities between the polarities.  At this layer, the dialogue is characterized by an increasing disparity and a seemingly irresolvable stalemate.  As the identifications crystallize, the gap between our selves becomes wider.

The third clarification layer of the dialogue slowly emerges as the tape loop in your head becomes recreated on the hot seat.  The ping-pong game of self torture loses some of its zing when you force yourself to listen to the harangue out loud.  Gradually the endless treadmill of building yourself up or tearing yourself down moves away from nagging to mutual understanding and trust where both "sides" begin to see and hear each other.

The following dialogue illustrates one person's gestalt moving through the four layers of the dialogue on the way to negotiation and closure.

---

| | | |
| --- | --- | --- |
| | LOVING… | INDIFFERENT… |
| ACCUSATION… | Let loose and let yourself feel. | I don't feel anything. |
| | You're afraid to feel. | I'm not afraid.  I just don't want to put out the effort. |
| IDENTIFICATION… | You want to be a vegetable. | NO.  No—1 don't want to be like that. |
| | Now you're beginning to feel. | Yes—1 feel resentful toward you. |
| | That's better than no feeling. | You're right.  .  .  I feel now. |
| CLARIFICATION… | Go on, feel. | I feel hopeful. |
| NEGOTIATION… | I'm glad you're feeling hopeful. | |
| | I want something from you. | O.K.  ask. |
| | I want you to practice feeling frequently beginning now. | Right now.  I feel silly. |
| | Great! | I will do what you're asking and I'm not minding the effort. |
| | Will you give any effort to being with people? | Yes, I'll make the effort to give more openly and freely of my loving and caring as long as you stay off my back when I need to be quiet and indifferent. |
| CLOSURE… | O.K., I will give you that. | Whew.  I feel lighter. |

---

The conversation leaves our person feeling hopeful and peaceful.

Third Position: Merging of One and Two

Now imagine that you move yourself into position three where the two parts of you merge.  It is as though you are the apex of a triangle where the other two points of the triangle are the two opposing polarity points at one and two.  And here you are in the middle with those two polarities merged.

Close your eyes if you want to and visualize yourself at the apex of a triangle.  Have your two polarities slide into you and merge to see what you feel when that happens.  Imagine yourself as one polarity, see yourself as the other polarity, and let them both slide in on you, stay with your feeling long enough to be able to give your experience a word.  You could be horrified or relieved or frustrated.  Once you find your word, write it down at point three.

The third position requires that you look in as an audience on your own script from a position which will find you in one of three attitudes: Arbitrating; Judging; Watching.  You can begin to move back step by step from your script.

---

| | |
| --- | --- |
| A.  ARBITRATE—frustrated, hopeless, tired, relieved, compromise… | As an arbitrator you will attempt to reach a compromise between your polarities.  Out of frustration, hopelessness or fatigue you may try to get the polarities to listen to each other.  Or you may even feel relieved that they are finally talking to each other and with this encouragement you go on to arbitrate a further reconciliation. |
| B.  JUDGE—top dog/underdog | On the other hand, you may be taking sides when you hear your conversation out loud for the first time.  As the judge you will render a decision as to which side of you is right, and in this mode you will probably punish the wayward, erring side of your polarity, judgmental self-righteousness will characterize your position.  Or perhaps you will be the benevolent patriarch who offers an edict for resolution. |
| C.  WATCH—LET YOURSELF ALONE—no self help, no resolutions, no intervention, no buildup, no tear down. | The final attitude at the third position involves letting yourself alone as the witness.  You avoid intervention in the process of you observing yourselves.  You are not necessarily detached from yourself.  You never stop being yourself.  You are not, however, striving for a solution to your conflicts.  You are not tearing yourself down or building yourself up.  You are, in the way of the Indian, able to see Yourself as you are. |

---

"No.  my son, there is no such thing as good and bad.  This is only used by the white men to create fear among themselves…  the answer to this conflict is the Give-Away.  Whenever one gives from his heart, he also receives." From Seven Arrowsby Hyemeyohsts Storm

As you witness yourself without needing to change or manipulate yourself, then you have come to the "Give-Away" and you can receive yourself in your heart.  You can give yourself grace to be yourself.  You are in the present to simply experience yourself as you are, not as you should be or have to be.  You are moving toward Transcendence.

Fourth Position: Transcendence

Stay with the notion of the triangle, and instead of being a part of the triangle, just come up above the triangle and look down.  See your polarities, and see yourself merging from a point of transcendence.

Look down on yourself from way above.  Pictorially, just draw a triangle on the page and stand over yourself and see what happens.

A.  REMEMBER—your calm center

B.  SYMBOLIZE—sign, word, sound…

C.  RECOGNIZE

Ask yourself, "Do I feel sad or happy, relieved to be out of it, a little scared to be away from myself that much?"

Write down whatever you feel when you get up above that triangle and look down.  Give your transcendent place a word.  Allow yourself to transcend above the chaos of your polarities.  Move into the possibility of yourself merging to go above yourself.

This experience can strike you as being very silly, absurd, tragic, heroic, or joyful.  When you transcend yourself, where do you go? Give your feeling a word; with one word, describe your whole state of being.

When you have found the word to describe your experience, close your eyes and withdraw into yourself.  Repeat your word and be aware of your body so that your body can tell you where your transcendence lives within you.  When you have located the part of your body and have stayed long enough in your awareness to get familiar with this place, open your eyes.

Transcendence is a place of the heart, a place of peace much like the heart chakra.

Transcendence at place four is not the opposite of place three at the combined merger of the triangle.  Four is the state you are in after you look back over your shoulder at yourself.  This is the dance you do after you come out of your trance.  This transcendence is the fruit of your self-conscious awareness in the now.

Up to now this exercise might have been, for you, essentially an intellectual experience.  You are forming the beginning of your work in gestalt.  You will be able to use gestalt technique with all of your polarities as you emerge in your relationships, your visions, your dreams, your total experience. This dialogue will go on for the rest of your life.

"…the sage does not bother with these distinctions but seeks enlightenment from heaven.  So he sees "this", but "this" is also "that", and "that" is also "this".  "That" has elements of right and wrong, and "this" has elements of right and wrong.  Does he still distinguish between "this" and "that", or doesn't he? When there is no more separation between "this" and "that", it is called the still-point of Tao.  At the still-point in the center of the circle one can see the infinite in all things."
"Chuang Tsu" Translation by Gia-Fu Feng and Jane English

Don't get discouraged.  So you don't have one merged polarity and think "No more gestalt, I've had my medicine for this lifetime." Gestalt is not necessarily designed to make you feel better right off the bat.  A lot of times it is valuable to stay with your hopelessness or your confusion or your ambivalence or whatever.  Stay with yourself until you work all the way through it.  On the way to transcendence you may have to go through the void, through the impasse.

"That is why it is said in Islam, 'Die before you die.' We have to learn to die to each moment; and as we die in love so we are reformed in love."

"It needs great courage to die each moment.  But until you can truly surrender you are not yet a salik, a traveller on the way.  A salik is one who has found himself.  And when he knows himself he knows the truth, and knows what needs to be done."
Hamid in "The last Barrier" by Reshad Field

Love yourself and remember that you are perfect.  That allows you to say "I don't have to be perfect.  I am perfectly human, humanly perfect." Then you are able to recognize others…  love everything and everyone—sharing.

Many times the spot you pick as a place of transcendence will correspond to the chakra points.  These points are centers where the nerve plexi enervate emotional responsiveness.  "Where did you find your spot of transcendence?", we ask our students, who answer, "In my belly, abdomen, forehead, wrist, genitals, top of my head, back of my spine, etc.  etc." Once you have identified the physical spot within you where you feel transcendent, then you know that you can always find yourself.  Whenever you feel off balance, you can return to your center.

Fifth Position: Integration

Now, can you come back out of your thinking for a minute and experience your physical body, your sensations and your feelings.  The work of gestalt is much more than the intellectual understanding.  With this exploratory experience of the pillow talk you are able to place yourself in perspective, to see, taste, touch and smell some of the polarities you might be working on.  The work of gestalt starts now.
Go to one, and if you want to, close your eyes.  What are the lines that you want to say at point one? "When I am a coward…," if that is one your polarities …"I am a …  I see myself trembling, I experience myself as not wanting to take very many risks.  I feel anxious a lot of the time, I keep myself withdrawn from experiences of others"—Write this down—a little bit of your script in the here and now.  Use the first person.  "I, I'm, I feel, I think, I want—I'm a coward.  I feel nervous, worried.  I think that nothing is ever going to work out, and I want to curl up and go to sleep" is an example of the script that you might use as a coward.  It will help if you could just write down "I think, I feel, I want", and your script to complete these sentences

"Having transcended all life, he began to achieve the clear vision of dawn.   Having achieved the clear vision of dawn, he began to see the One.  Having seen the One, he began to transcend the distinction of past and present, he began to enter the land where there is no life or death, where killing does not take away life and giving birth does not add to it.  He would reject nothing, welcomed all things, negated all things, and affirmed all things.  This is called tranquillity in struggle, meaning perfection is the result of struggle." – "Chuang Tsu" Translation by Gia-Fu Feng and Jane English

At this place of closure and integration everything you are is operating spontaneously.  There are no stops and no starts.  No trouble shifting gears.  Put down a few words to describe how you feel this place- You are taking time to write, and this is a good device for getting clear with yourself.  Your polarities will emerge if you have got your script sketched, and then you will move into a spontaneous experience as the dialogue within you unfolds.

Now move over to the opposite of the polarity, to the other side of the coin.  And when you are at point two in that polarity, what is your script over there? "I think, I feel, I want." This is the I-You dialogue and the sentences run on.  You are now into a dialogue which begins with you, all of you.  The process of merging the two polarities comes from the dialogue you have between the two of them.  Do you have a feeling for yourself?

Move to three with your script and end at four.
What was your word at point four?
Who are you?
Give yourself freedom to be you.

The Paradox of Being: In and Out of Your Selves

In gestalt we are creating a situation in which the person is able to explore the split within himself.  This dialogue of division can also be experienced in your body as a right-left split or top-bottom half conflict.  As each polarity speaks its piece, the possibility for resolution is increased.  As the internal mental and physical dialogues are re-enacted, then we are able to let go of the unfinished business of unfulfilled daydreams and futile speculations.  We are able to recognize that we have created frozen polarities as a way of maintaining the status quo of what we think "should" happen.  As we are able to identify with both "Sides" of our self, then we come to see the absurdity of splitting ourselves.  The polarity dialogue helps us realize that our ego is not a separate entity maintained by one-sided judgements (e.g., it's better to be loving than impatient) and at the expense of our unified self (capable of both love and impatience).

The gestalt dialogue with the empty pillow/chair is much like Plato's idea of the cave and the shadow.  We all cast ourselves on the wall from the fire in the middle of our ego.  Moreno, Berne and Peris have all adapted the notion of the empty chair to be used in the therapeutic quest.  We can hope to balance ourselves only when we are able to bring our full awareness to the shadows we cast on the wall and the one-sided images we have created with our one-sided view of the rightness and wrongness of our personality traits.

The organic process of self discovery comes only when we can live freely with the paradox of determinism and free will.  The business of gestalt is to use the awareness of self in the service of letting go of the need for your selves as separate from you.  You can learn to shuttle in between yourself and out of yourself with ease by using the two empty pillows as a mirror for each other. As your reflections across the pillows become complementary instead of antagonistic, then you can more easily appreciate the unity of the first and second positions of the road map.  If you doggedly cling to one side or the other and deny that you have a choice, then you cling to determinism.  If you exercise your moment to moment choices to move freely from one to two to three, four or five and back again, then you affirm free will.  One important step to gestalt work is to work through the paradox of being both parts of yourself simultaneously but separately, (e.g., at your work you are loving, but at home you are impatient).  This juggling game is the source of much discomfort to many people.  This is called "living with" inconsistent nature.  As a temporary measure it is necessary to give equal time to the loving side and the impatient side, but this is not the end of the work.  As you move into the fifth position on the gestalt road map, you are able to render the paradox of dualities meaningless by being both loving and impatient.  Later on, you are just loving or just impatient as you can be in this process of paradoxical resolutions.

The Five Stages of Resolving Paradoxical Duality

NEITHER HERE NOR THERE

| | |
| --- | --- |
| DENY | Who, me impatient? No, I'm always loving. |
| SHUTTLE | I can be loving at work and impatient at home. |
| SIMULTANEOUS | I can be both.  Like a game. |
| BOTH HERE AND THERE | I am both |
| | There is just loving and just impatience. |

Later on as we do more of our gestalt dialogues, we can allow more room for just living our lives instead of trying to program the resolution of dualities.  Later on, you can let go of watching yourself, let go and realize you simply are.  Here, there and everywhere.

A genuine contract between the opposing polarities will usually result in a lessening of crippling indecision, righteous prejudice, and internal struggles.  The person whose dialogues have begun to merge can experience seemingly incompatible qualities such as love, impatience, fear and joy, all at the same time or in the same situation without being "stuck" at any one point.  (The love within a person can be in the foreground as figure, and impatience can be as ground all at the same time.) The synthesis of these polarities will result in a profound sense of being whole.

Experiences in this Section

You begin to remember your wholeness with:

1.  Pillow Talk Polarities
2.  Dialogue Four Levels
3.  Merging Three Levels
4.  Transcendence
5.  Integration
ARCHETYPAL ASTROLOGY
by Gwynne Mayer
(This is a discussion of the meaning and importance of archetypes as they source themselves through the self, anima, animus, and shadow as seen through Jungian psychology.  This is taken from the lessons taught in Archetypal Astrology in the last forty years.)
The Self — A combination of psyche and ego (ego being the conscious realm as signified by the ascendant), the psyche being the conscious and unconscious. We are born into the cross of matter and fixated, at the time of birth, in an ego building chart, with 12 other environmental, housing concerns that respond to our involuntariness and spend time trying to sway us into a formation. The ego is needed to respond and 'not'  to react, hopefully spontaneously, as a child (so says the Bible) so as not to form too many sub personalities. Let's give your 'self' the number 1 personality that is free flowing and typical of your ascendant, depending on its mutability, cardinality or fixity. The number 2 personality has been 'conditioned' by the chart/12 houses and all aspects to the Ascendant (Rising Sign)  and shows the nature of the ego from birth forward. Look at your chart and see what your ascendant and all planets nearby have to say about your ego/self and watch closely as to your approach to the unconscious and the imaginable realm. Do you move about freely? Does your ego set discerning pathways by which you can maneuver through your chart? and by the way, the charts of others?…Remember when we read the charts of others that we are speaking to the 'soul' through the ego…and sometimes it is a treacherous path if we are too subjectively involved with our own egos!
The Anima is the 'Soul' of man and is seen through the female side (which can be male or female) I associate the Soul connection in relationships through the Moon/Venus and all heavily aspect connections of the male s chart through those two directions. The anima in a man s chart is his inner female and can be reflected back to him more easily when there is a Moon/Venus connection through another's chart. This is critical, especially in love relationships as the female in the relationship will be relating to the male s anima whether she likes it or not, as that is all he can see/love her for. So let s look closely at the male Moon/Venus in the men s charts, and look closely at how they aspect your chart in synastry. We must notice the attention we pay, and those that grab our energies and see what part of them lies within us. I will use my own Sun and Moon analysis as well as my 7th house whose co-rulers (Saturn/Uranus) lie in the 10th house. I am mesmerized by strong willed and connected females more in a positive way, and have spent much of my life devoted to hanging onto those images AS self, but the shadow part of me is equally put off and negatively hypnotized by the 'victim', the 'helpless', and the 'needy' female opposite. So I had to take the nature of the Sun in Leo and find out what the oppositions to those adjectives/qualities would be not Uranus. I have acted out my willful freedom issues by walking out of 7th house relationships, not facing my own dependency, my own neediness, fears, helplessness and most of all my own sadness. To this day, it creates an intense amount of work on my shadow side. My eighth house opposing Moon in Libra (second) is of course how Aphrodite will live with her sexuality…as I watch her shadow nymph-like creatures going about creating magic.
PSYCHOLOGICAL TYPES CORRELATED
From an astrological perspective, I would like to explain the introversion/extroversion as it applies to the chart mandala as well as the intuition, thinking, sensation, feeling functions and how they are seen in the chart wheel structure.
According to Jung's typology, we classify according to attitude type and function type. Of attitude type there are two choices: extraverted, in which the individual's libido (primal structure) tends to be directed from oneself towards objects in the outer world, while introverted personalities, libido tends to be directed from the objects of the outer world into oneself. Acknowledging that neither of these categories is fixed nor exclusive, Jung sought merely to describe in a practical, observable way what someone's dominant or typical attitude was toward people, the world and oneself.
We look at a chart wheel and make some generalizations regarding the above introverted/extroverted nature. The introverted chart will have the majority of planets below the horizon, realizing that the person with this chart will take matters into account on a subjective level and may or may not manifest these matters outwardly. The predominance of female planets (earth/water) in a chart will also show a subjective nature, but not necessarily introversion. The extroverted chart, on the other hand will have a predominance of planets in the upper half of the chart and/or a predominance of air and fire. As always a synthesis of all aspects in a chart need to be considered and flexibility in the nature of a chart, progressions and transits needs to be accounted for when analyzing these extroverted/introverted natures.
We shall now look at the intuitive, thinking, sensation, and feeling aspects of the natal chart. We categorize these types into rational and irrational functions. The two rational types are thinking and feeling. We use the term rational because both of these functions are criteria to organize and to make decisions. The thinking function organizes and decides according to analysis and logic, (planetary placements in air, i.e., Libra, Gemini, Aquarius), while the feeling functions organize and decide based on ones values and self worth, i.e. (Cancer, Scorpio, and Pisces). Feeling function should not be synonymous with emotion, but instead should go into the realm of morality and values, including one's ethical sense of things and situations. Using the term 'rational' for feeling types in the Jungian sense might confound modern-day people (especially thinking types!) who assume feelings and emotions are always irrational aspects of psychic life meant to be controlled or resolved. Thinking, if looking at only placements in a chart, will be in the lower left hand quadrant as one looks at a natal chart, taking into account the combinations and aspects of both air planets and air house placements in a solar chart. The feeling section of a chart will be the lower right quadrant and will depend largely on the placement of water planets, and or water houses, i.e. the fourth house is largely the rooted values/feelings coming from home and family in the past and in the here and now.
We will move then to the discussion of irrational functions. The two irrational functions, in Jungian terminology are intuition and sensation. Intuitive types function on the basis of one's unconscious experience and perceptions, that immaterial realm of symbols, images and archetypes that many are unaware of but which an intuitive person uses as the foundation for action and experience. The intuitive function is represented by a predominance of planets in the upper left hand quadrant of the natal chart and are also represented by planets in fire, i.e. Aries, Leo and Sagittarius. The sensation type of person primarily function through experience of the concrete, physical world, a down-to-earth sense of existence in the world and unto oneself. This type is primarily seen in the upper right hand quadrant of a chart, represented by earth planets, Capricorn, Taurus and Virgo. Again, one must synthesize to see the blend in a chart and work with the integration of all types into the one personality/ego structure which is the overall outer wheel of a chart as read from the ascendant.
Basically, using Jungian types, there are eight basic types of people: extraverted thinking, feeling, intuitive, and sensate, and introverted thinking, feeling, intuitive and sensate. The well known Myers-Briggs test of psychological type is based on Jung's typology. There are some extra categories, but other Jungians have adapted some of these tests in different ways.
SHADOWS LIVING IN POLARITY
Often times we live in our own reality long enough to realize that the shadows around us must have something to do with us, not belonging to the OTHER as a projection, but instead living within our peripheral vision as a perception of the OTHER. What we realize in astrological terms is that each sign has its polarized opposite and that opposite is the nature of our shadows. For those who do not have a great deal of astrological experience, I have designed a simple interpretation for you to peruse regarding your sun sign. For those who are learned in astrology, you can apply these signs and opposites to all of your planets and houses therein.
Aries — Aries polar opposite would be Libra. The initiative and manifestation taken on by an Aries will often have the Libran shadow lurking in the background—dependency on relationships (not too willingly dependent due to the opposition, as in all shadows…repressed energies). An Aries may be annoyed with the need to always be called on to balance, to negotiate, to resolve conflict, while claiming a hard stand on INDEPENDENCE. The independence of the Aries is always in conflict with the need to relate…to be committed…to find the other as a source for the targeted projection of neediness, dependency, and most of all conciliatory agreements.
Taurus — This sign is dancing with its shadow Scorpio and has a grand time in its fixed two step rendition of "I Own YOU!/YOU are too intense for me." What does the Taurus do with his/her intensity of feeling? Usually the Taurean energy is too busy making money, worrying about the material world, and grasping at fame and fortune, to be disturbed by the intense sexual energy and intimacy issues that arise WITHIN. Usually the Taurus surrounds him/herself with those intense others so that BLAME can be put on those possessions within the family circle. What would happen if the Taurus became more cognizant of the deeper meanings and feelings involved in more intimate interaction? Their lives would become more sexual and intense, instead of sensual and superficial.
Gemini — The shadow of Gemini would be Sagittarius. Here we have a duality that operates at all times, changing faces to adapt to each situation and even coming up with a reasonable philosophy to justify the personas. Gemini, although very mutable, can often be very dogmatic and believe only in the constructs of the Gemini mind as that is his/her form of higher (Sagittarius) knowledge. Watch for conversations with this sign where nothing is being heard other than the sound of his/her own voice. So the question is, while the Gemini is involved in his/her shadow, can we have a conversation that is a two way event?
Cancer– Cancer's polarity is Capricorn and definitely the paternal aspect of the matriarch as Cancer battles the shadow of the patriarch in all the subtleties of feelings and emotions and never out in the open as words would be useless at this time. Manipulation is the shadow of this Moon ruled sign and learning to be open and loving rather than smothering and possessive, using children and loved ones to find joy and security in life. This sign will live out all of its shadows through the progeny if they allow it. My suggestion is to be quite open with a Cancer and call it as you see it. That takes the power of the shadow away from this otherwise loving and caring sign.
Leo's polarity would be Aquarius…so Leo will hide the need for distance in an intimate relationship and jump into his/her mind so that he/she doesn't have to deal with the emotion and fire of the relationship at the level of intimacy. All along seemingly romantic (as most Leo's are), he/she will hover near the flame of creativity, deep intimacy, etc., but keep himself/herself at a distance by figuring it all out. The quality of unreal and surreal is replete in an Aquarian and lives in the shadows of a Leo…opting to project onto the whole planet and the new age, the needs of relationships. Such drama of AVOID DANCE can only enhance the romantic detachment that brings this shadow to the forefront.
Virgo — Virgo's wonderfully discriminating energy is often sabotaged when the shadow of Pisces is not acknowledged. The Virgo takes on the bitchy, nitpicking negative qualities because of over prioritizing issues and events instead of giving itself sacred space. The shadow of a Virgo is usually only visible by another discerning Virgo as this is a crafty and often powerfully intelligent sign to process. Pisces gives vision to a Virgo in the golden gifts of the shadow, but the Virgo is not just satisfied with vision and dreaming—much too romantic and illusory for this process oriented sign. It would pay well for the Virgo to look within and find that dream, that illusion that would give depth and energy to the sterility of just staying with the PROGRAM.
Libra – Libran's greatest need is to join together as one as partners of equals and have a truly compatible relationship with a significant other, however the shadow of Aries reminds the Libra of the opposition the independent and free-thinking soul who needs no one else in order to make decisions. Often, in the midst of the wrestling with the shadow, a Libra will triangulate and find third parties to negotiate that freedom of thinking and in doing so sabotage the monogamous or one on one intimacy that he/she has so longed for. The libran needs to learn how to be direct and share in consensus reality, much less take responsibility for the need for resolution without giving up one's freedom of choice. Most Libran's will wait on the partner for decision making but will not take the initiative. As long as this continues the hiding of the shadow is the key and the unlocking of the shadow would help free this partnering sign.
Scorpio – Scorpio's intensity and grounded sexuality will take on the negative aspects of Taurus when the shadow is lurking near. Possessiveness, jealousy, rage and sensuality for the sake of the senses, holding no other meaning will all be prevalent in the Scorpio during these times of the shadow working. Scorpio is excellent at finding the deeper meanings of life and in helping all others transform as well as evolve past the more superficial behaviors. When the Scorpio is caught up in the Herculean angst of wresting with the labors of this Taurus' shadow, it is best to stay clear of him/her so as not to be included in the abusive nature of the fight. Scorpio can assimilate this in a sort of a dance–tango like– letting one side show, to be serviced by the others side…and so it goes on and on.
Sagittarius – The knowledgeable and often dogmatic teacher within the Sagittarius is sabotaged by the Gemini counterpart and pretends to "not know" what is being contemplated, but instead acts as the perennial student, when all the while holding court as the Hierophant and knower of all things. So the secret side or the shadow of this fire sign will be in the fixity of the dogmatic beliefs. To get this to the light of day, one must scratch the surface long enough with the Sag to see what he/she truly believes and not give him/her a chance to hide in his/her gypsy mentality. I consider this sign one of the hardest to get to know fully, as their communication is often muddled with contradictory statements and conflicting beliefs. There lies the shadow.
Capricorn – Capricorns are very purposeful and pragmatic, looking to protect their future with an over vigilance in the present. They also have a need to be assured of stability regarding finances and conservativism in their environment. These creative mountain goats can find a way to create quality in their homes and in their lives so that they can be safe and secure within their own surroundings. When the shadow creeps in to the psyche of a Capricorn, through his/her opposite in Cancer, we will see an over abundance of emotional angst and witholding if his/her needs are not met, so much so, that the intensity of feelings are acted out very tempermentally and often abusively due to the inability to handle his/her emotional lives around risk and lack of safety.
Aquarius – Aquarians are humanitarians at heart and can become so detached from their own humanness, that they miss "living fully". We find Aquarians harnessing a protective element in their psyches that keeps them from being too sensitive to the needs and dramas of others. This brings in the negative Leo qualities into their shadows, a superficial dramatic acting out of emotional angst, a refusal to go through the experience, but instead to live out experiences through a sort of voyeurism so as to remain untouched by the pain and suffering that comes in any of our lives. When the shadow is lurking in the Aquarian, we will pick up a pompous and somewhat holier-than-thou attitude which is also holding his/her world together while he/she gets an understanding of how to live each moment fully, and authentically, even more to the point, how to stay in one's own authority without giving way to pompous dogma.
Pisces – Pisces is a sensitive and romantic sign and the people born under this sign are often artistic either in art, music or theater, if not professionally then at least as a hobby. The Pisces is looking for the bigger picture in his/her life and is content to keep the vision of the whole in front of him/her. When the opposing Virgo shadow is present, there is confusion, bitchiness, and isolation that occur in the Piscean character. He/she is looking for the answer to all the confusion, but seldom understands that it is of his/her own making. When stress is present in a Pisces life…either caused by too many relationships, work-a-holic behavior or simply an addictive lifestyle. We will see a rubber band affect where the Pisces will pull into hiding after being social and quite popular. The Pisces needs to reflect without analyzing every bit of minutiae in his/her life and use introspection as a tool of understanding…or even better…use meditation as a calming agent.
As an astrologer, I think it is important for others, especially established
Jungians, to embrace some of what Jung said in this letter, written in 1958,
3 years before his death.
"To Robert L. Kroon
Astrology is one of the intuitive methods like the I Ching, geomantic, and
other divinatory procedures. It is based upon the synchronicity principle,
i.e., meaningful coincidence. I have explored experimentally three
intuitive methods: the method of the I Ching, geomantics, and astrology.
Astrology is a naively projected psychology in which the different
attitudes and temperaments of man are represented as gods and identified
with planets and zodiacal constellations. While studying astrology I have
applied it to concrete cases many times.
There are remarkable coincidences, e.g.. the position of Mars in the
zenith in the famous horoscope of Wilhelm II, the so-called
'Friedenskaiser.' This position is said already in a medieval treatise to
mean always casus ab alto, a fall from the height.
The experiment is most suggestive to a versatile mind, unreliable in the
hands of the unimaginative, and dangerous in the hands of a fool, as those
intuitive methods always are. If intelligently used the experiment is
useful in cases where it is a matter of an opaque structure. It often
provides surprising insights. The most definite limit of the experiment is
lack of intelligence and literal-mindedness of the observer. It is an
intelligent apercu like the shape of the hand or the expression of the
face—things of which a stupid and unimaginative mind can make nothing and
from which a superstitious mind draws the wrong conclusions.
Astrological truths as statistical results are questionable or even
unlikely. (cf. my paper 'synchronicity: An Acausal Connecting Principle" in
Jung-Pauli: The Interpretation of Nature and the Psyche, Bollingen Series
LI, New York 1952. Pag. 83 ff.)
The superstitious use (prediction of the future or statement of facts
beyond psychological possibilities) is false. Astrology differs very much from alchemy, as its historical literature consists merely of different methods of casting a horoscope and of interpretation, and not of philosophical texts as is the case in alchemy.
There is no psychological exposition of astrology yet, on account of
the fact that the empirical foundation in the sense of science has not yet
been laid. The reason for this is that astrology does not follow the
principle of causality, but depends, like all intuitive methods, on
acausality. Undoubtedly, astrology is flourishing as never before in the
past, but it is still most unsatisfactorily explored despite very frequent
use. it is an apt tool only when used intelligently. It is not at all
foolproof and when used by a rationalistic and narrow mind it is a definite
nuisance."
CG Jung
As a student of his daughter, I learned that he casted charts on most every
one that he saw as a patient and since his death, many psychological essays,
as well as dissertations have been done on astropsychology. Many of the
well renowned Jungians utilize this method and are not very forthcoming
about it due to the criticism by those who cannot connect to its
intelligibility. Hope this helps some of you who have questions about Jung's involvement in
metaphysics as well. I think a study of his connection to Pauli might help.

Proposed Syllabus for Medical  Astrology:  January 10-February 28 2018
(8 weeks)  I will use Guy Hiscock, http://hiscockintegrativeshiatsu.com/ and Will Easton, Osteopath and Counselor as references to help with this course.  My approach is to apply personal psychosomatic underpinnings to medical approach.  For texts I recommend the following Medial Astrology: A guide to Planetary Pathology by Judith Hill and Medical Astrology by Jeffrey Wolf Green.  It is not essential that you have these texts to take the course.
We will work primarily with the personal charts of the people in the class and as with other classes the first 30 minutes will be recorded and the personal charts and explanations will NOT be recorded.  Each section will have a PDF file that will be sent before each session.
An overview of our study and how we will present the material as it is connected to the Chakras, the Signs and the Spinal and Neurological centers.

The connection and correlation with each planet and sign, with an emphasis on Transits and Progressions on personal charts and how they are coordinated with the body.
The correlation to the somatic/psychosomatic conditions created by transits and Progressions to the signs/planets of the body.
Continuation of no. III

Balancing our dualities created by these occurrences.

Continuation of no. V.
Working with the Mental, Emotional/Feeling and Moving Centers in relationship to the Chakras and Spinal system (Ida Pingala)

Continuation and summary of VII.
"Only those who attempt the absurd will achieve the impossible." – M. C. Escher
Join us in our Sunday readings of Beelzebub's Tales to His Grandson —
November brings:
Renewal
Transformation
Forgiveness
November is moving us into a very transformative time and completing a cycle that has seemed very chaotic but needed in order to capture the attention of those of us who are complacent and not welcoming the immense changes that are needed.  If you life is topsy turvy, the planets are also reflecting this as well.  Keep in touch with the planetary movements and how they affect each of your signs.
Watching for this month's important cosmic events:
…October 27 — Long term affects of Venus square Pluto is a transforming moment that captures attention especially with Aries, Libra, Cancer and Capricorn.
…November 4 — Full Moon in Taurus — emotions run high!!
…November 18 — New Moon in Scorpio — Change, Transformation and Forgiveness all in one breath!!
…November 22 — Neptune direct — Pisces moves forward and Virgos pay attention as life goes on!!!
Remember to read your Ascendant (ego/physical body), Sun (Spiritual/mind) and Moon(emotional/feeling/nurturing)
signs in that order when reading these monthly updates.
(If you have questions, please
 contact me at gwynne.mayer@gmail.com. Also Holiday Special 10% Savings during November and December, applies only to online consultations. Consultations include New Year 2018.)
Aries is transforming the inner life and is often amazed at the changes that occur in the outer life because of the intense energies released.  Aries often looks to others rather than self/Self for guidance and that needs to stop so that progress can be made.  Now is the time to look to your dreams and aspirations and fill them with vigor and imagination!
Taurus is transforming the way they see their future and goals that have not been met.  This can be depressing if you put your future in the hands of another so you are going to have to figure out what it is you 'really want' and make it happen according to 'your goals and aspirations' rather than depend on another. This is hard for the Taurus who wants a partner of equal strength and purpose.
Geminis have to open their eyes and hearts to those around them and develop some sensitivities to the needs of those close by. This is difficult now because of lack of focus and the Gemini can see this in careers and ambitions that have been thwarted.  Believe it or not it is confusing to those around you as well.  Your focus needs to be intelligent and discerning and it might get you exactly where you need to be!
Cancer is feeling the need to spread its wings and move on to higher learning, travel and working with dreams that want to come true.  It might be time to write that book or to look into serious journal writing and keeping track of your heritage and the personal history that you want to leave behind for your children and grandchildren.  You have much to offer in the area of story telling and now is the time to start telling your story….not to mention the intense feelings you have had in the past!
Leos are transforming the area of partnerships and love life in a way that is somewhat confusing to those who are involved with them.  The heart is wanting to speak and yet the words that come out don't seem to match up!  Learning to live from your heart and your feelings rather than trying to intellectualize them and make them into something they aren't.  Your partners, especially the romantic partner, will greatly appreciate your vulnerability and sharing. This is hard work Leo…speaking from your heart!
Virgo seems to be trying to transform health and personal welfare, but runs into obstacles.  This can be helped by getting professional help and guidance and then using your incredible intuitive skills to discern the truth of whatever guidance your receive.  You are somewhat psychic about your own future but when you try to carry that over to your partner, it seems to fall flat.  That is because you might be more 'right on' than they want to believe!
Libra needs to transform their money making agendas and start looking realistically at what energy investments need to be made.  It really is about energy equal monetary value at this point.  There has been a cloud of confusion in this regard and the Libra is now waking up to this fact.  You are a unique individual and have unique skills that can be used to make your goals and ambitions realities!  Don't argue yourself out of reaching these!
Scorpios are transforming in their ideas of personal creativity and family matters.  Children and grandchildren are becoming more and more important and the need to be close to family is  becoming a real issue.  It will take special effort on your part to let the family know you are present and able to help and support them in any way you can.  There is a real need to work toward your creativity in a way that opens up whole new worlds for you!
Sagittarius is transforming the homelife and the sacred spaces one calls 'home'.  It is very important to keep one's space clear of clutter both materially and emotionally.  Sagittarius is finding whole new realities out there that will lead them to higher thinking and spiritual goals that they could not have imagined before.  This all comes due to the spaces they provide for themselves to carry on these activities.
Capricorns has their nose to the grindstone in keeping tabs with their daily activities.  They are finding great joy in taking care of essentials. Dreams are very important now so get plenty of rest and pay attention to the message your dreams are sending you.  You might also start a journal about your dreams and keep note of this time in particular.  
As years pass you will find that your dreams have prognosticated what is happening in the far future.  You have innate psychic wisdom! Use it!
Aquarius is transforming the pocket book, money made and money invested.  This is difficult most of the time because these issues are the last things to be looked at for most Aquarians. They seem to live a life where a 'cosmic Santa Claus' gifts them with what they need just in time!  Now is the time to pull up your boot straps and look at your balance sheet.  Ugh!  I feel for you in this time of growth.  I know you can do it.  Make money work for you and not against you!
Pisces is living the transformative dream.  Issues that you have worked on for the past five or six years are now coming into fruition.  You can see the forest for the trees and will move ahead the next few months with imagination, focus and energy that you thought was gone forever.  Your life takes on new meaning and you can relish in the proof of this by looking around at your immediate surroundings and giving yourself a pat on the back.